On average, 119 million people visit Tennessee every year! WOW! There are many reasons why Tennessee is attractive to so many people. It is a drivable distance from many southern and midwestern states, and the weather is relatively mild year-round. Not to mention the beautiful Smokey Mountains and the endless adventure to be found all across the state. 
Whether you want to go for the city feel of Nashville or enjoy some R&R in the Smokies, Tennessee is the place to be! 
So, how do you visit somewhere that so many people go, and make it a unique experience for you? A TREEHOUSE STAY!
There are over 30 treehouse stays scattered throughout Tennessee. I've listed some of my favorites below!
Bloomington Springs, TN
✓ 2 People
✓ 1 Bedroom, 1 Bed, 1 Bath
Designed to be the most romantic getaway tucked deep in the woods of Tennessee. Come experience Sulfur Ridge, Tennessee's first luxury treehouse rental. Perched 15 feet above the forest floor, the treehouse offers a private, intimate space to relax. 
Please note – this is an adult-only property. 
 Smithville, TN
✓ 10 People
✓ 4 Bedrooms, 8 Beds, 3 Baths
This treehouse is very unique. You will not find another cabin on Center Hill Lake like it. Enjoy your morning coffee on one of five balconies. Relax in the hot tub. Cookout on the grill that is provided or prepare dinner in the wonderful kitchen space.
Take a hike down to the lake on the trail, which takes you to your own little cove! (Have a kayak? Bring it!) With Center Hill Lake being a preserved lake & mountainous, it's almost unheard of that a house even has a trail to the lake!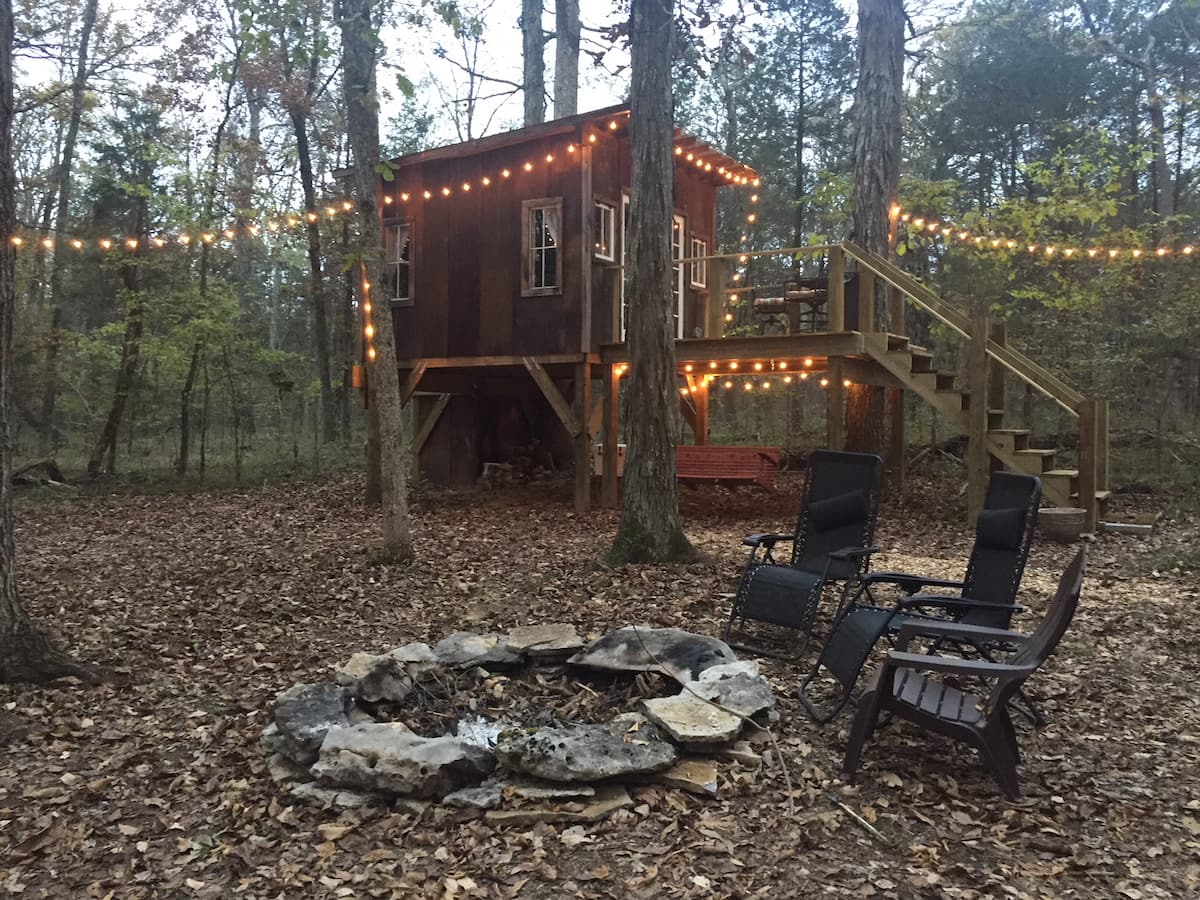 Mount Juliet, TN
✓ 2 People
✓ 1 Bedroom, 1 Bed, 1 Bath
The Nest is located at "The Farm at Deer Crossing" a 51-acre farm and Agritourism destination in beautiful Mount Juliet, TN. Enjoy a fun, romantic getaway to our private, secluded treehouse with heat, air and a full bathroom. Get away from the hustle and bustle of city life, but yet stay close to everything. Located only 6 miles to shopping and restaurants, 15 miles to Nashville airport, and only 22 miles to Downtown Nashville. 
 Sevierville, TN
✓ 4 People
✓ 1 Bedroom, 2 Beds, 1 Bath
The 1st true treehouse in Gatlinburg/Pigeon Forge built by The Treehouse Guys from the DIY network show! Features a loft bedroom, full bath with rain head-tile shower, unlimited high-speed internet, fully equipped kitchen, very comfortable power reclining leather couch, 2 live trees growing through the interior, 2 live trees growing through the enormous deck space, covered hot tub, 2 outdoor bars, suspension bridge to crows nest deck around a 5th tree, and so much more…
 McEwen, TN
✓ Pet Friendly
✓ 4 People
✓ 1 Bedroom, 1 Bed, 1 Bath
Serenity House is a perfect retreat for two. Can sleep as many as four. It is located high in the trees. It boasts a beautiful view of the property from the sizable porch for enjoying a drink under the stars. Let the space sway you to sleep as the wind blows the treehouse side to side.
 Springfield, TN
✓ Pet Friendly
✓ 2 People
✓ 1 Bedroom, 1 Bed, 1 Bath
A unique treehouse overlooking the majestic Carr Creek. Comfy queen size bed with luxurious bedding. Room equipped with a microwave, fridge, coffee maker, and toaster. There is a separate bathroom with a shower, sink and toilet.
This gorgeous place is located in Springfield, TN, which is 30 minutes from Nashville. Springfield is a short five-minute drive away. Local restaurants, shopping, and entertainment are all conveniently located.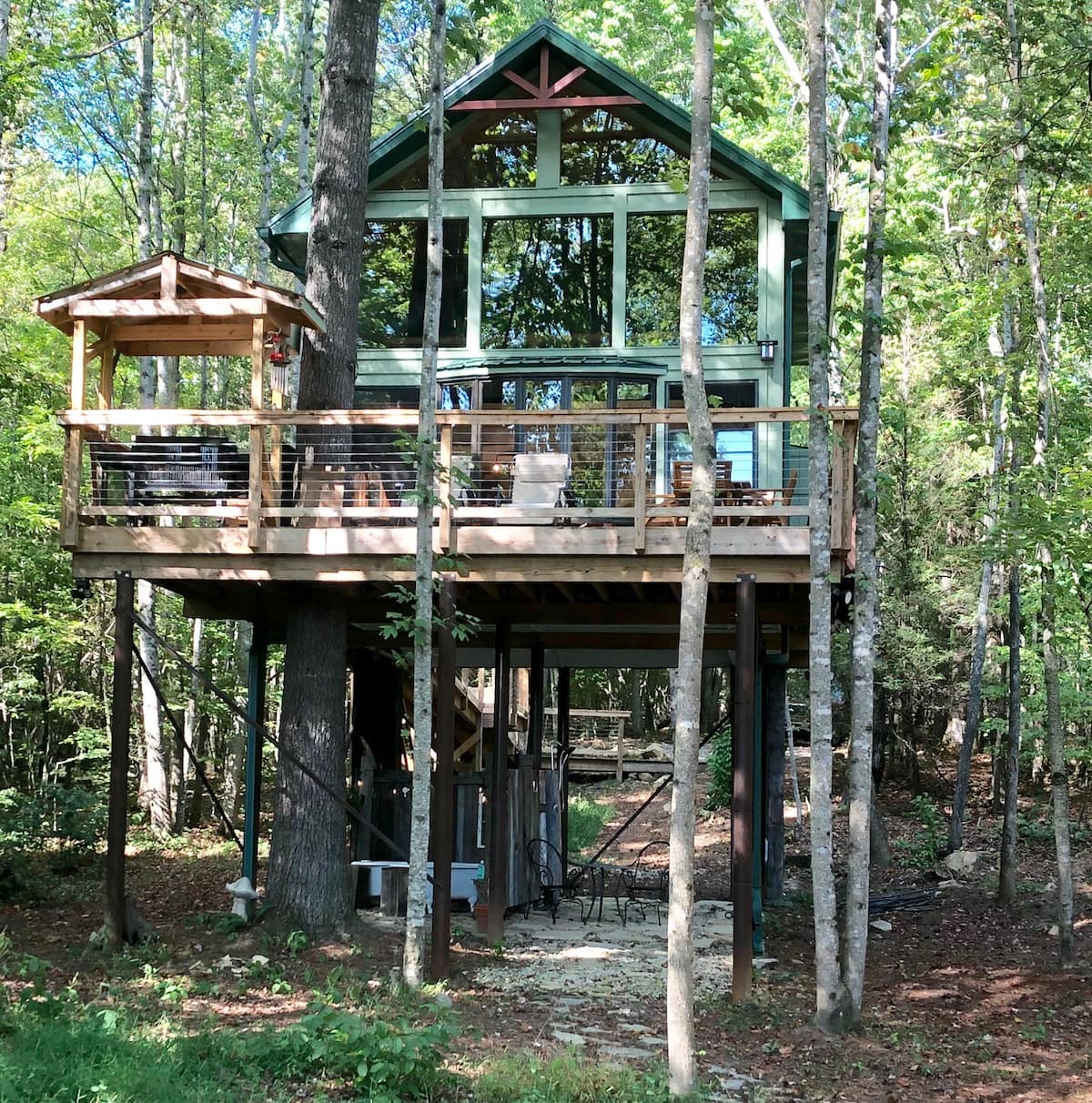 Unicoi, TN
✓ 4 People
✓ 1 Bedroom, 1 Bed, 1.5 Baths
Nicely appointed treehouse with a wheelchair-accessible ramp for the physically challenged. Secluded on 20 private acres but only 8 miles to I-26, making it private yet convenient. 20 min. to Johnson City, TN, 45 min. to Asheville, N.C.
The main level has a sleeper sofa, kitchen, full bath, gas log fireplace, and flat-screen tv. Upstairs has a king-sized bed. Outdoor shower, two clawfoot bathtubs, waterfall, and firepit. Hiking, mountain biking, disc golf on-site. "Glamping" at it's best! 
 Copperhill, TN
✓ Pet Friendly
✓ 4 People
✓ 1 Bedroom, 2 Beds, 2.5 Baths
Enter this colorful treehouse in the mountains for your next getaway! Perfect for trips with friends, family, and couples. Completely dog friendly! Walk across a suspension bridge into this magical treehouse that offers a main floor and a loft as well as a spacious porch and the perfect view of the mountains.
There are two other treehouses on this property. The nearest treehouse is located 50 yards away and the other one is 80 yards away. Message the host to find out how to rent all three if you have a larger group!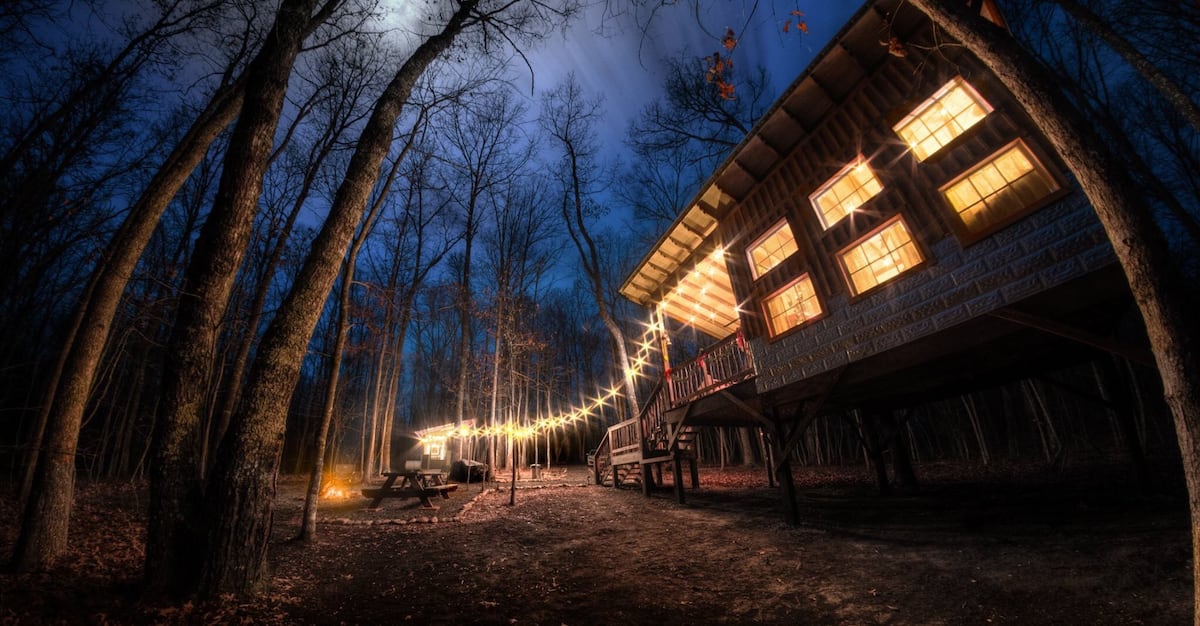 Dunlap, TN
✓ Pet Friendly
✓ 2 People
✓ 1 Bed, 1 Bath
This is a complete glamping experience! Think tiny house. This 12×12 treehouse is equipped with an outdoor kitchen, a table for two, lounger and chair, wifi, smart TV with Netflix, Hulu and showtime, HBO now, air conditioning, board games, books, comfy queen bed, air conditions, gas log, coffee, greenhouse bathhouse, and fire pit. 
It is located just 16.2 miles from Fall Creek Falls State Park and 9 miles from Savage Gulf Natural Area on the Cumberland Plateau. And now, with an outdoor theater!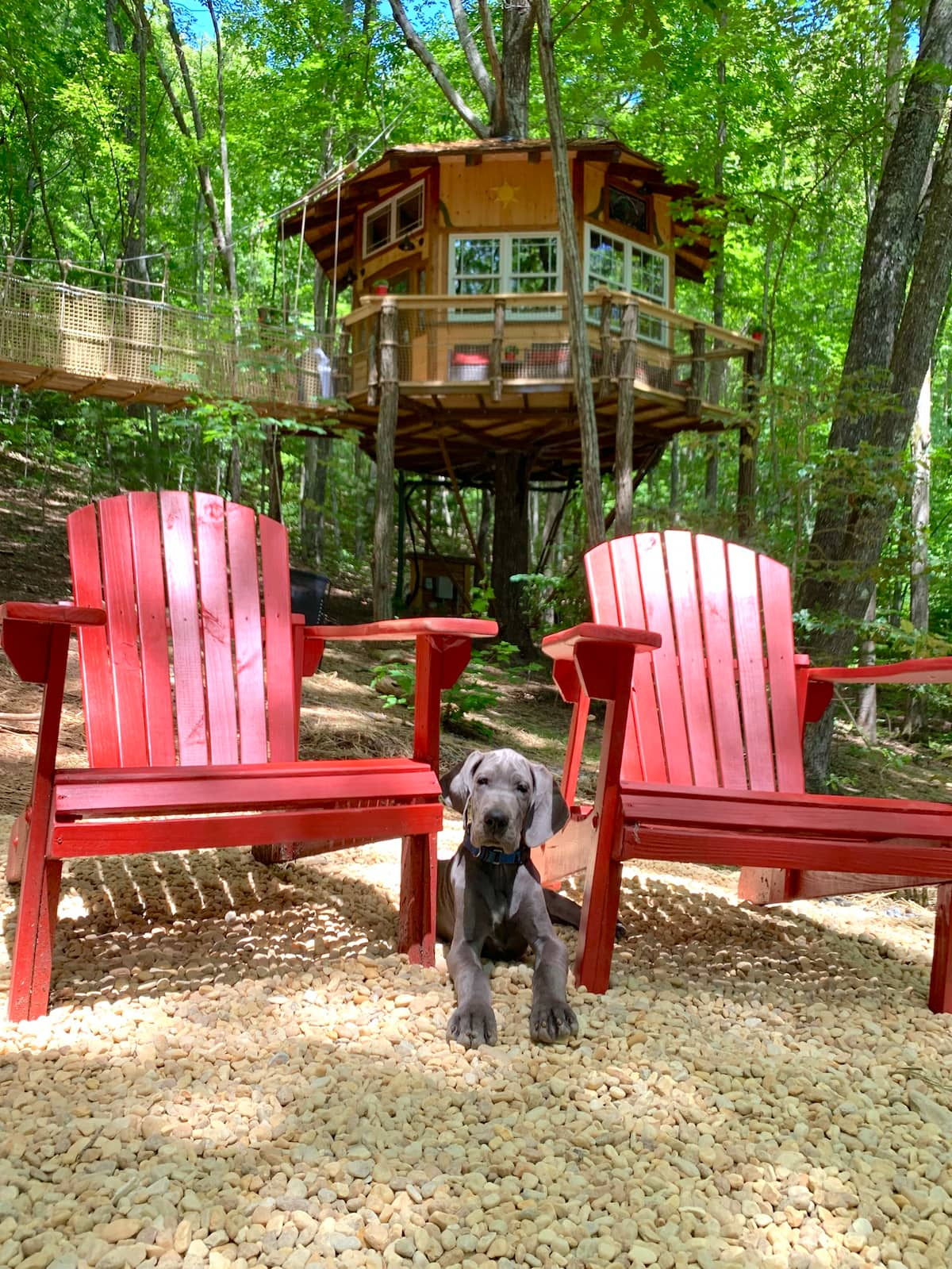 Copperhill, TN
✓ Pet Friendly
✓ 4 People
✓ 1 Bedroom, 2 Beds, 1 Bath
Relax in the mountains at Treehouse Mountain Retreat! Walk across a suspension bridge to your next magical getaway! This treehouse is supported by a single tree overlooking the forest in all directions! It comfortably sleeps 4 people.
This treehouse has everything you need to enjoy a few days of relaxation. Bring your pup, they are dog friendly too (no pet fee)! If you have a party of 5-11 people, ask about renting two or three treehouses. They offer a combination discount! Check out #8 to see one of the other tree houses they have!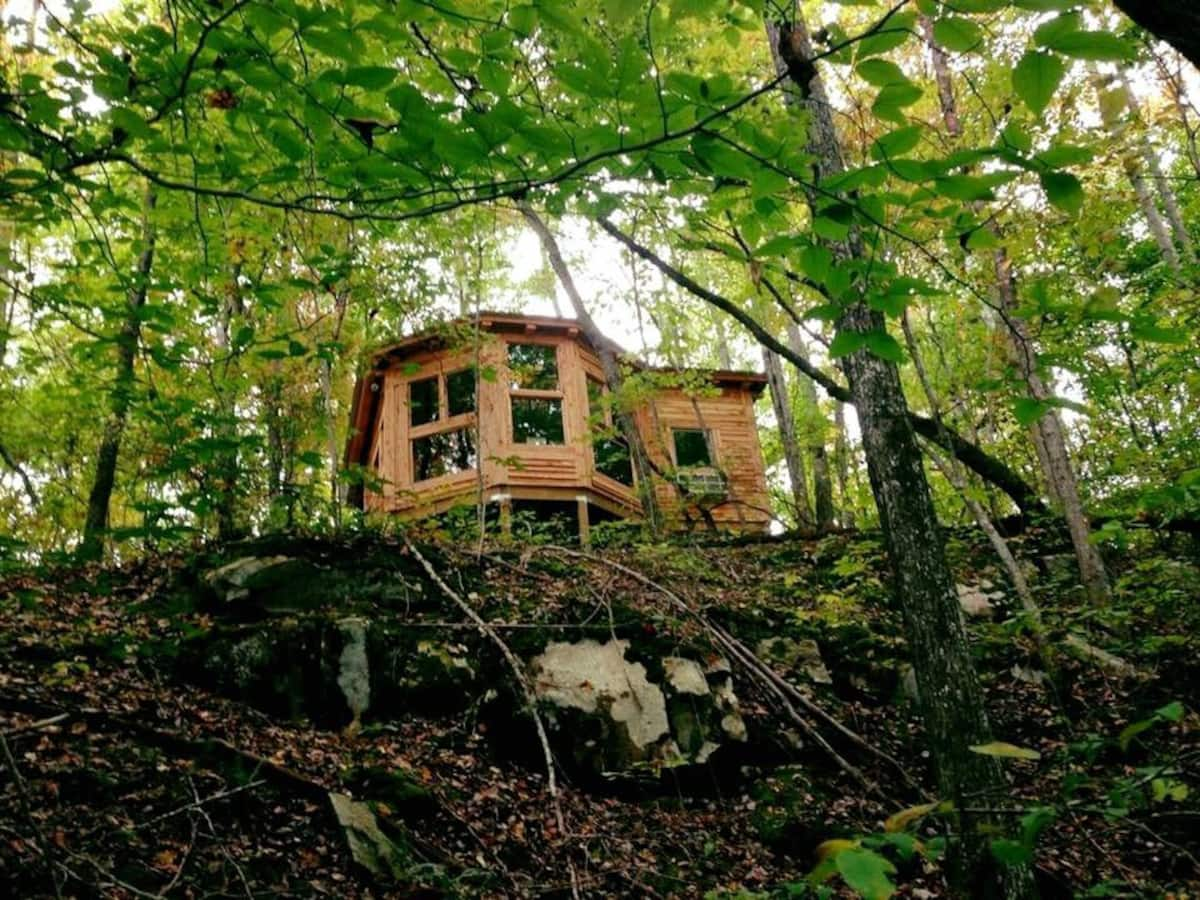 Cookeville, TN
✓ 2 People
✓ 1 Bedroom, 1 Bed, 1 Bath
Escape to your mountain retreat and shelter here! The Cabin is clean and is a beautiful experience to add to your adventures! 
Close to Cookeville but secluded~10 minutes to the Square and I-40 exit 290. Relax away from the crowds. Watch movies, play games and reconnect. 
Enjoy your morning coffee surrounded by a canopy of trees looking through the large cabin windows. Cozy up to a campfire. Roast marshmallows and enjoy sweetness and s'mores. 
 Gatlinburg, TN
✓ 4 People
✓ 2 Bedrooms, 2 Beds, 1 Bath
As you begin your stay in the Magnolia Treehouse, it is as if you are being embraced by Nature herself. The entry stairs are flanked by young evergreens as you are guided up into the treehouse. Here in Nature's canopy, you will enjoy a luxurious stay in a one-of-a-kind location.
A place where you may awaken your inner child and spend some time among the trees. A place where stress and worry fade into distant memory as you enjoy the tranquil scenery that is all around you.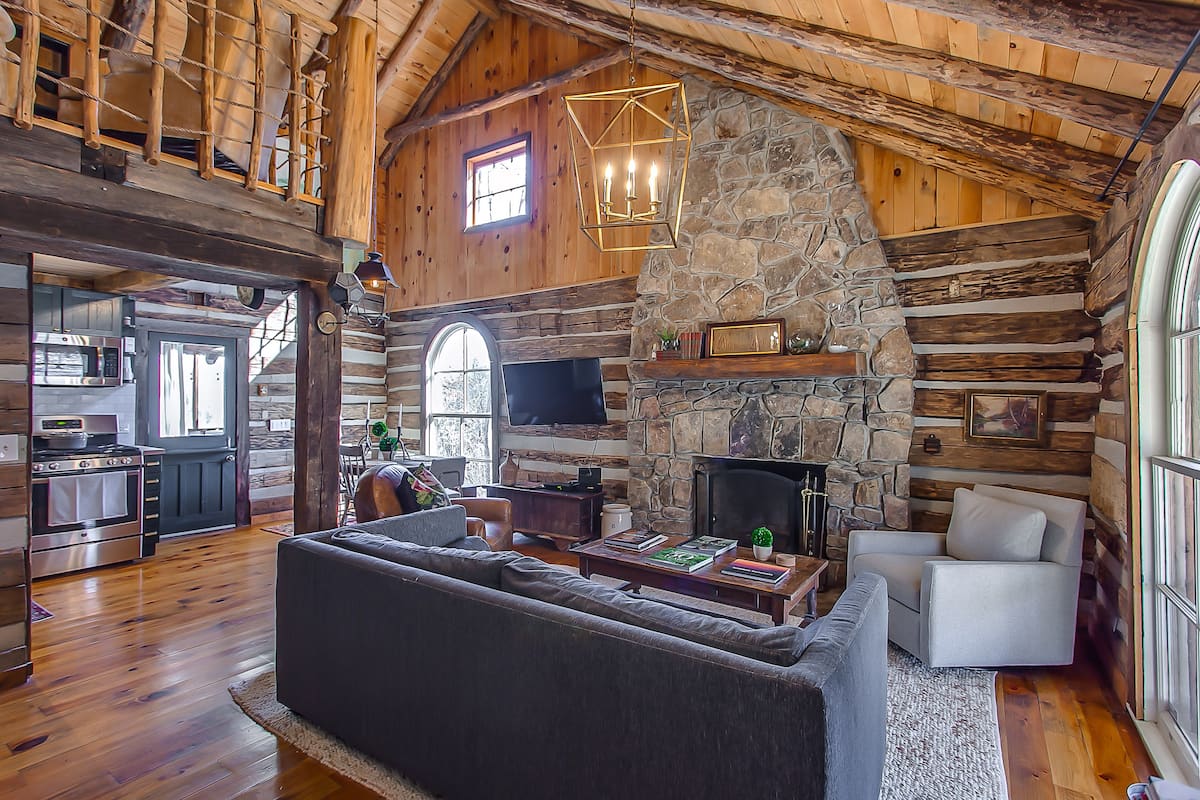 Sparta, TN
✓ Pet Friendly
✓ 14 People
✓ 5 Bedrooms, 9 Beds, 4 Baths
A collection of 2 pioneer built cabins (moved and rebuilt at this location in 2003) and a luxury treehouse on 12 wooded, private and gated acres. The breathtaking lake views await you at once you step out onto the back porch of the main cabin.
The property sleeps up to 14 people, yet each structure is on the smaller side and brimming with character!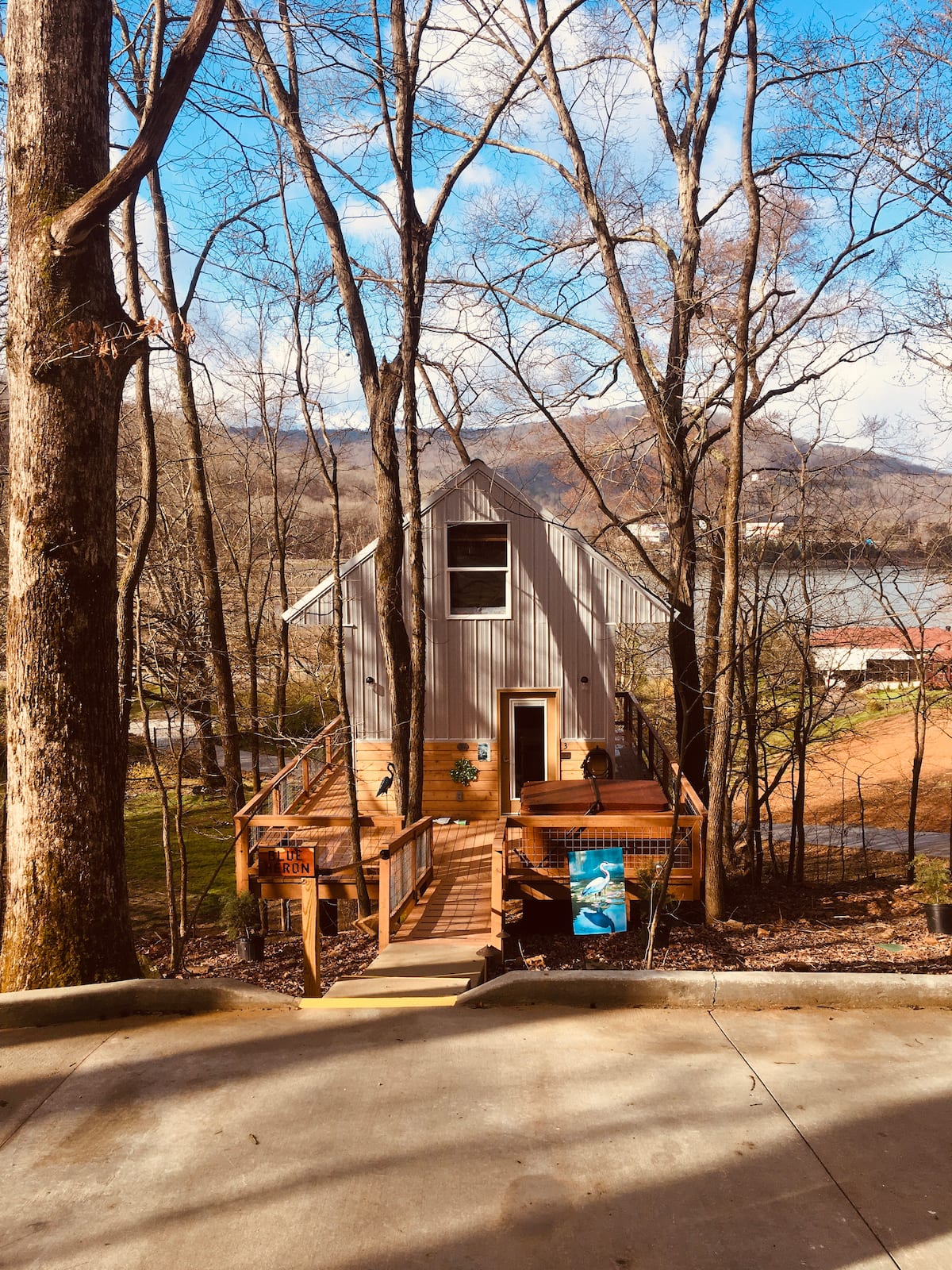 Guild, TN
✓ 2 People
✓ 1 Bedroom, 1 Bed, 1 Bath
400 sq foot treehouse cabin, chattanooga 17 miles, hot tub , gated access to treehouses . one king size bed upstairs by way of spiral stairs, Walmart 10 miles from property, several hiking trails in the area, fully stocked.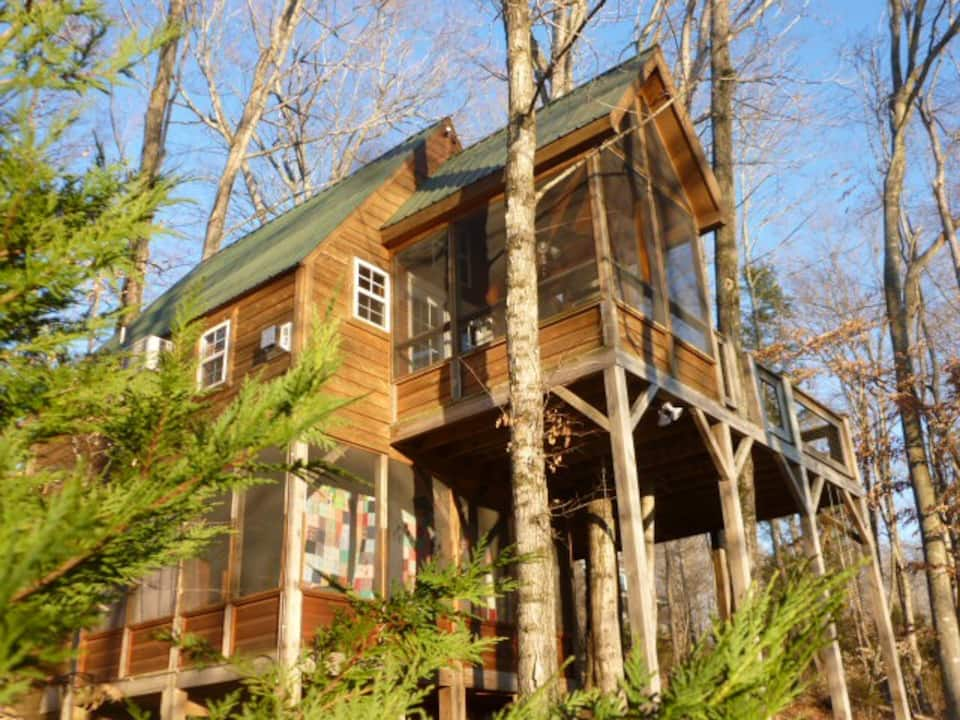 Byrdstown, TN
✓ 4 People
✓ 1 Bedroom, 2 Beds, 1.5 Baths
This is a unique romantic getaway. This is a true Treehouse . Open living area on main floor with loft for a private hideaway. All amenities, including bed linens and towels, are provided. Full kitchen amenities are included as well. The kitchen, however, has no stove, but does include an electric skillet & microwave.
Additionally, an under the counter refrigerator is provided, so bring coolers for your beverages. Book 6 nights, and the 7th night is free!
If you're interested in seeing unique places to stay all over the US, follow us on Facebook!