For many of us, our love of treehouses may have begun when we were just kids. Something about being way up in a tree, away from our parents, doing whatever we wanted was so captivating. 
Now as adults, the appeal is still there, maybe even for some of the same reasons! But now we may also be attracted by the architectural feat and seclusion of many of these treehouses. 
There have even been TV shows dedicated to treehouses! Perfect for an artist's escape, a few days away from the city, or a romantic weekend, treehouse stays are a great idea for many occasions!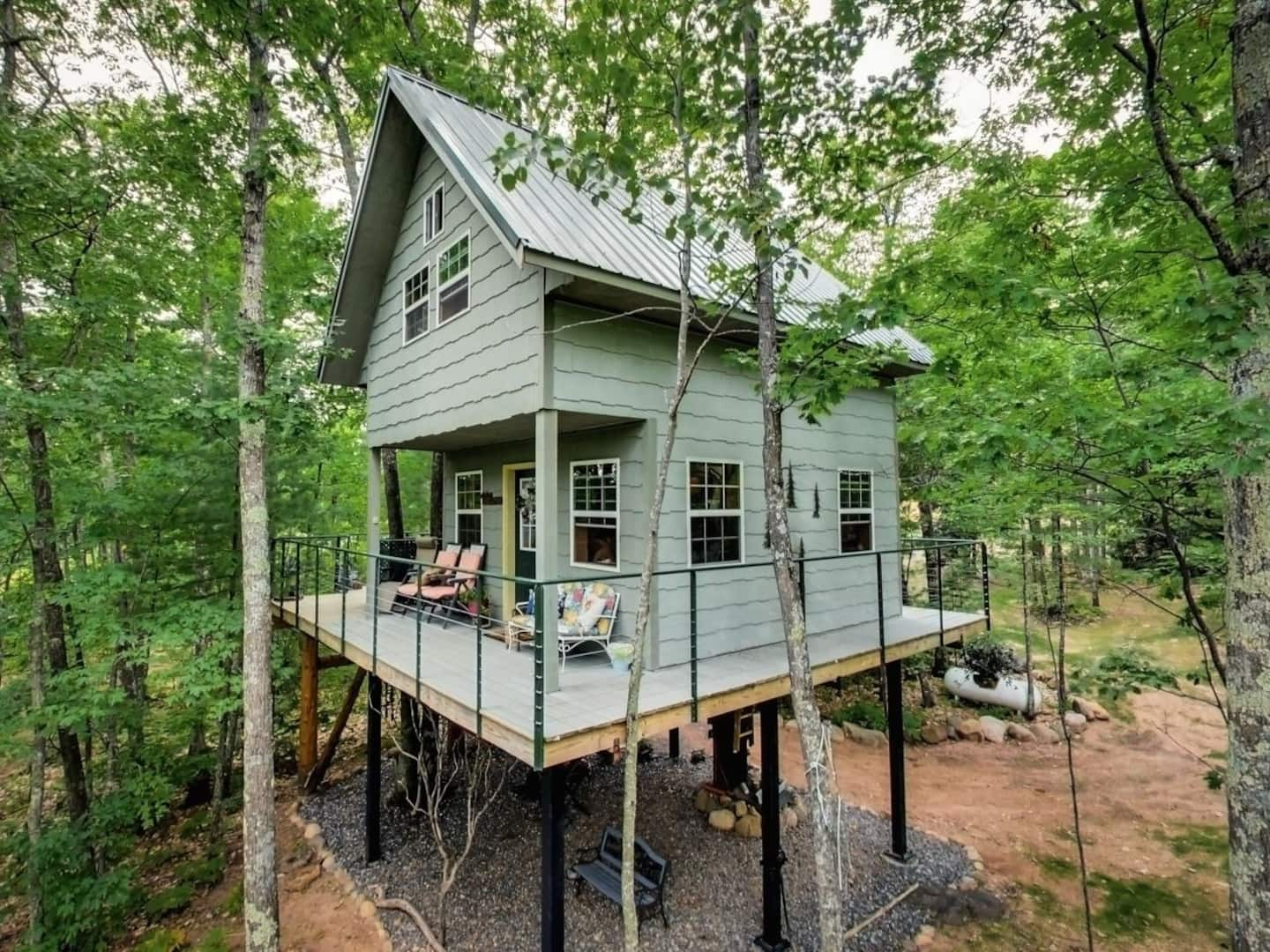 Bayfield, WI
✓ 4 People
✓ 1 Bedroom, 3 Beds, 1 Bath
Nestled in the heart of berry country, surrounded by pine trees, Boulder Ridge Treehouse is a handcrafted retreat where you can savor a Northwoods experience with the emphasis on "woods." Lake Superior driftwood has been fashioned into beautiful railing enclosing an upstairs double loft with a catwalk joining two sleeping areas.
Much of the wood used in the treehouse was harvested from the property, including the solid maple countertop featuring inlaid Lake Superior agates.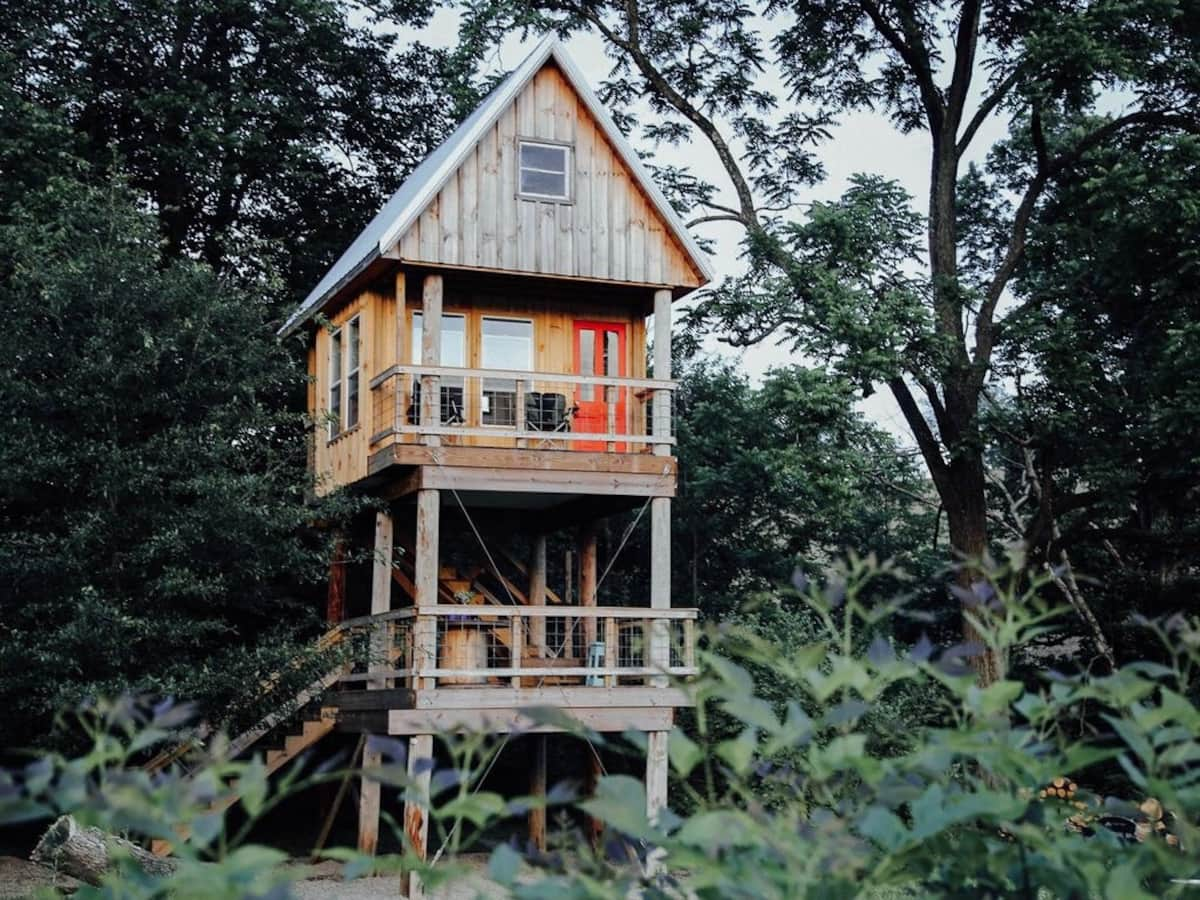 Frazeysburg, OH
✓ 5 People
✓ Pet Friendly
✓ 0 Beds, 1/2 Bath
Tullihas in the Trees is an off-grid treehouse adventure. The treehouse has no electricity, no running water, and limited cell service. There is an Amish built composting outhouse on-site and potable water is available a short distance away. Nestled on a beautiful Coshocton County farm, the treehouse is a great place to hammock, sit around the campfire, explore trails, and unwind.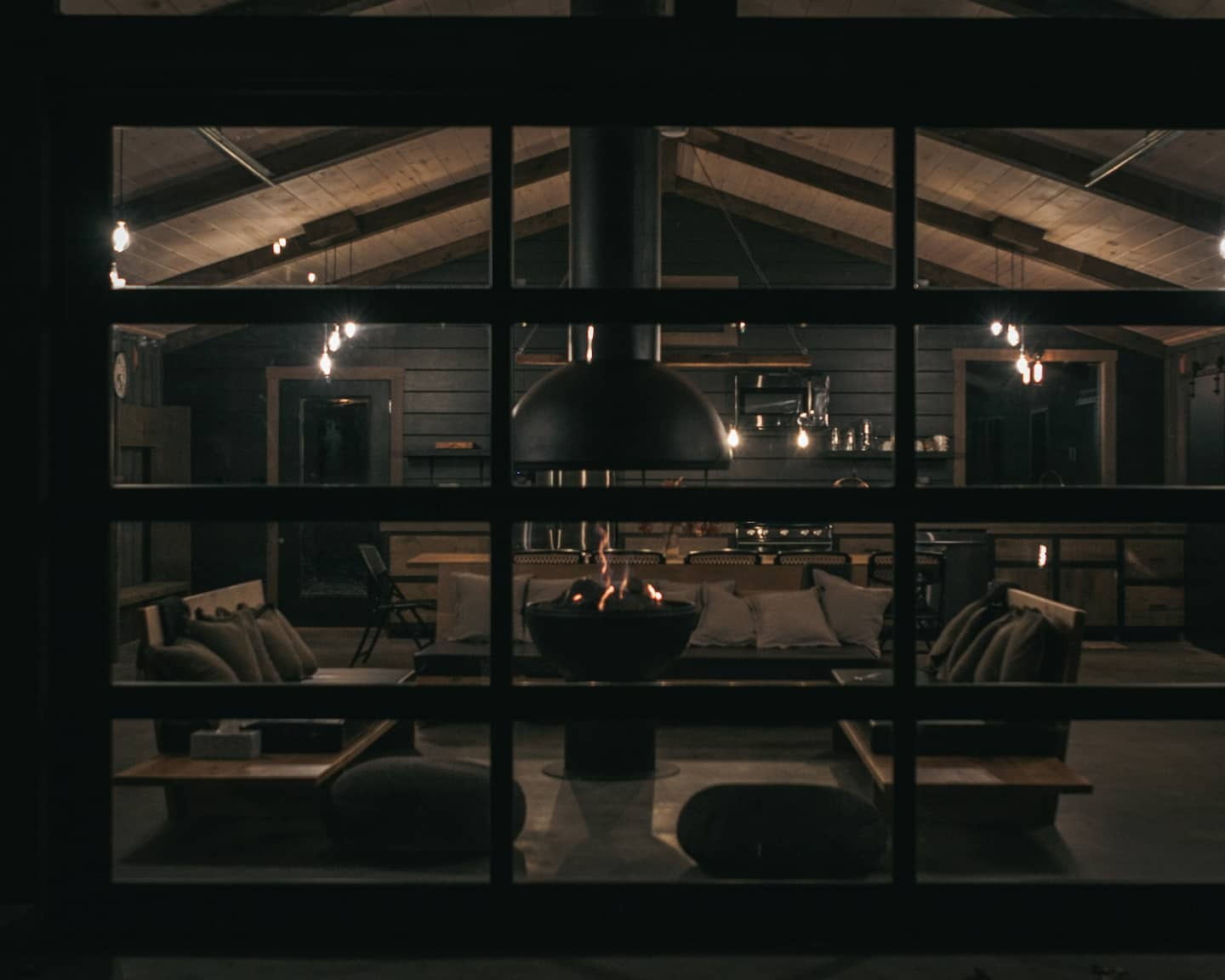 Dundee, OH
✓ 12 People
✓ 3 Bedrooms, 6 Beds, 2 Bath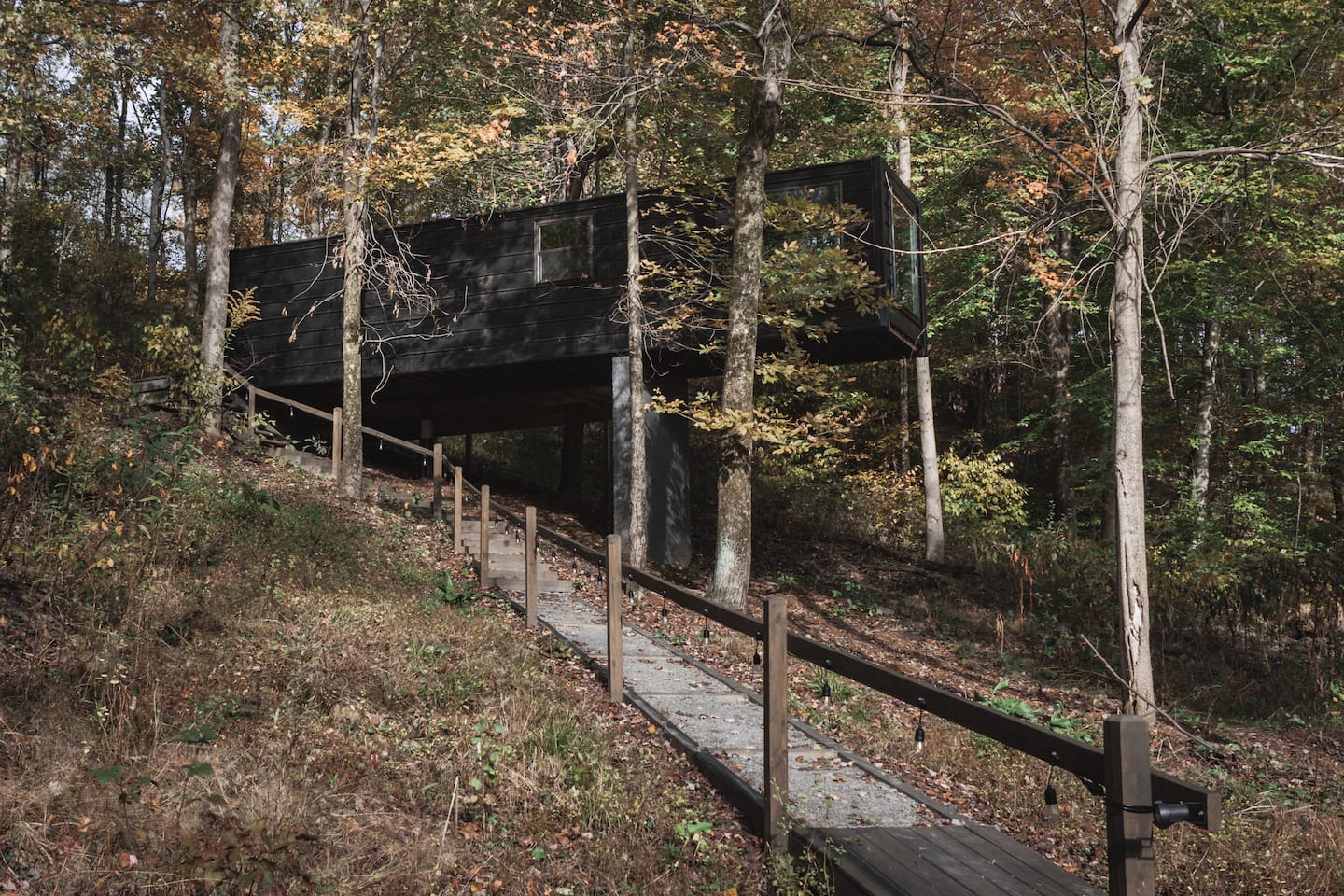 Dundee, OH
✓ 4 People
✓ 1 Bedrooms, 2 Beds, 1 Bath
Perfect for a getaway with friends or family but still allows you some privacy as you can rent multiple treehouses in this "village"! Rent the whole complex and make the lodge the central meeting space!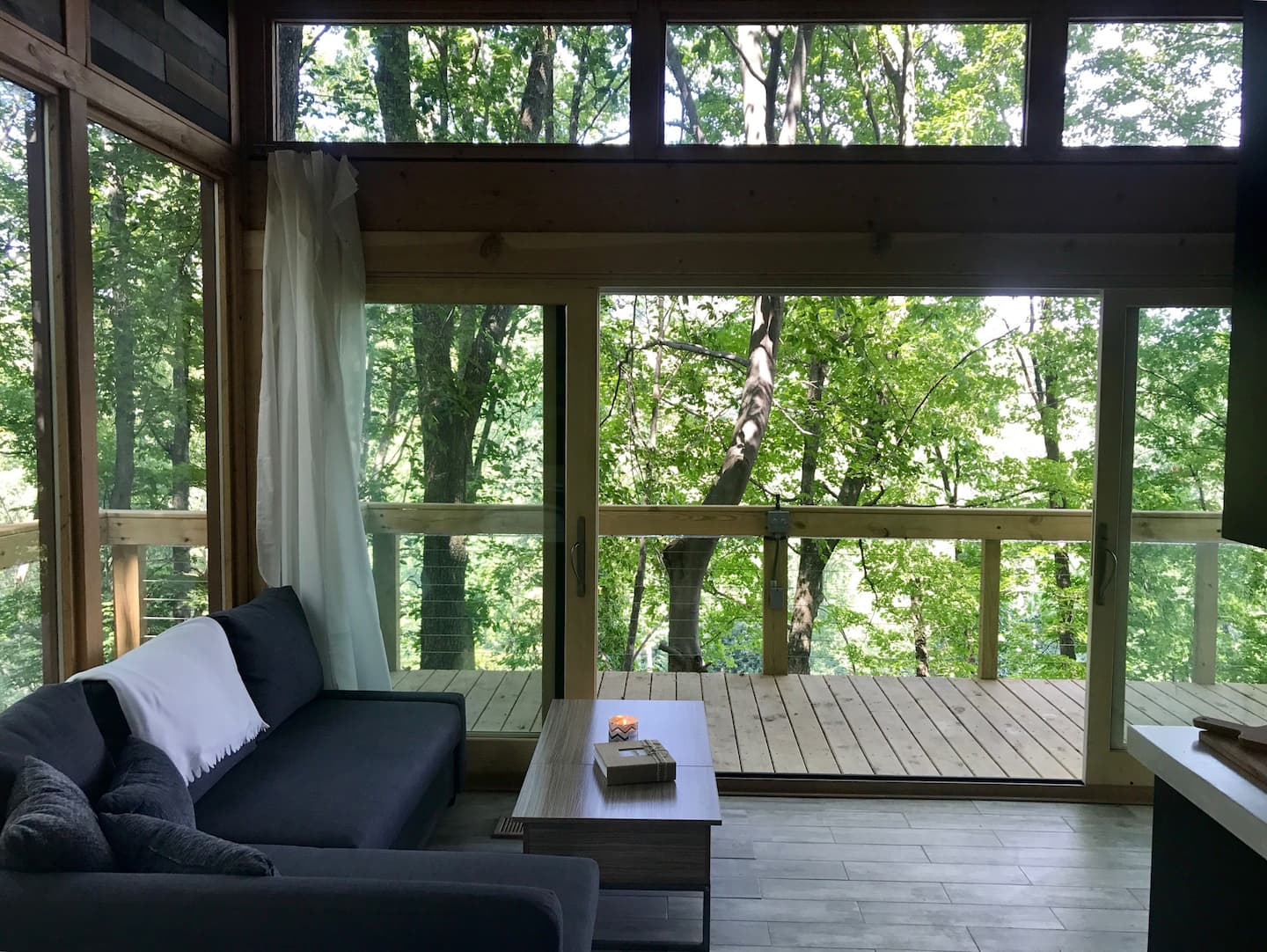 South Bloomingville, OH
✓ 4 People
✓ Pet Friendly
✓ 1 Bed, 1 Bath
Located approximately 12 minutes from Old Man's Cave, Ash Cave, and Cedar Falls is a lovely studio-style Treehouse tucked away in the trees along a hillside with incredible views! The Treehouse has a fully working bathroom with an indoor shower and toilet as well as a sink.
The Treehouse also has a fully functional kitchen. The living area has a queen-size bed with storage underneath and a sectional sofa with a pull-out couch that makes this a queen-size bed as well.
South Sioux City, NE
✓ 2 People
✓ 1 Bedroom, 1 Bed, 1/2 Bath
18 feet in the air nestled between 2 beautiful cottonwood trees sits this amazing Adult treehouse, built with reclaimed repurposed materials. The view captures spectacular Nebraska sunrises as well as the sunsets while overlooking 5 acres of detailed landscaping. There is a beautiful lower deck for enjoying the perfect Nebraska evenings or morning as well as an upper small deck.
The Cottage
The three following treehouses are part of The Cottage Bed and Breakfast in Hermann, Missouri. Not only do they have luxurious treehouses, but they also have running hot water for the sink, shower, and toilet as well as a fridge, microwave, and Keurig.
There is even a treehouse on the property that is wheelchair friendly. Perfect to rent multiple treehouses in The Cottage for a trip with friends or family!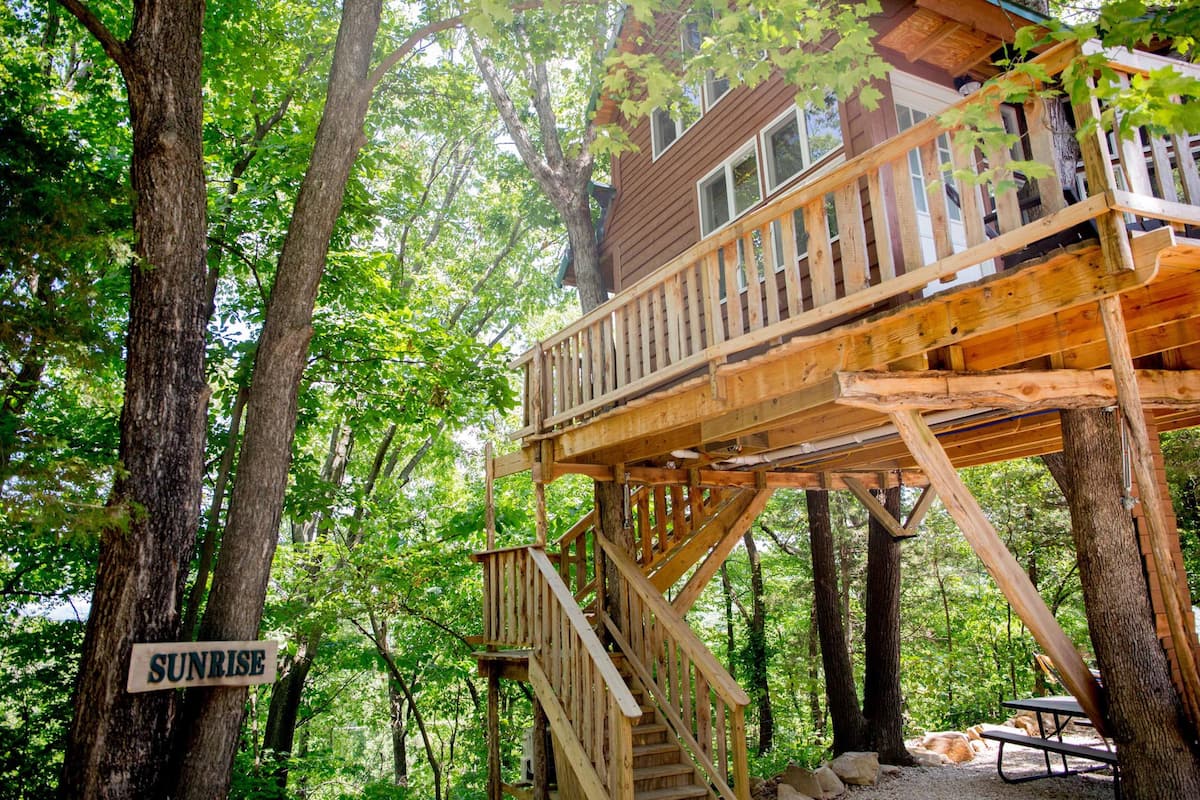 Hermann, MO
✓ 4 People
✓ 1 Bedroom, 1 Bed, 1 Bath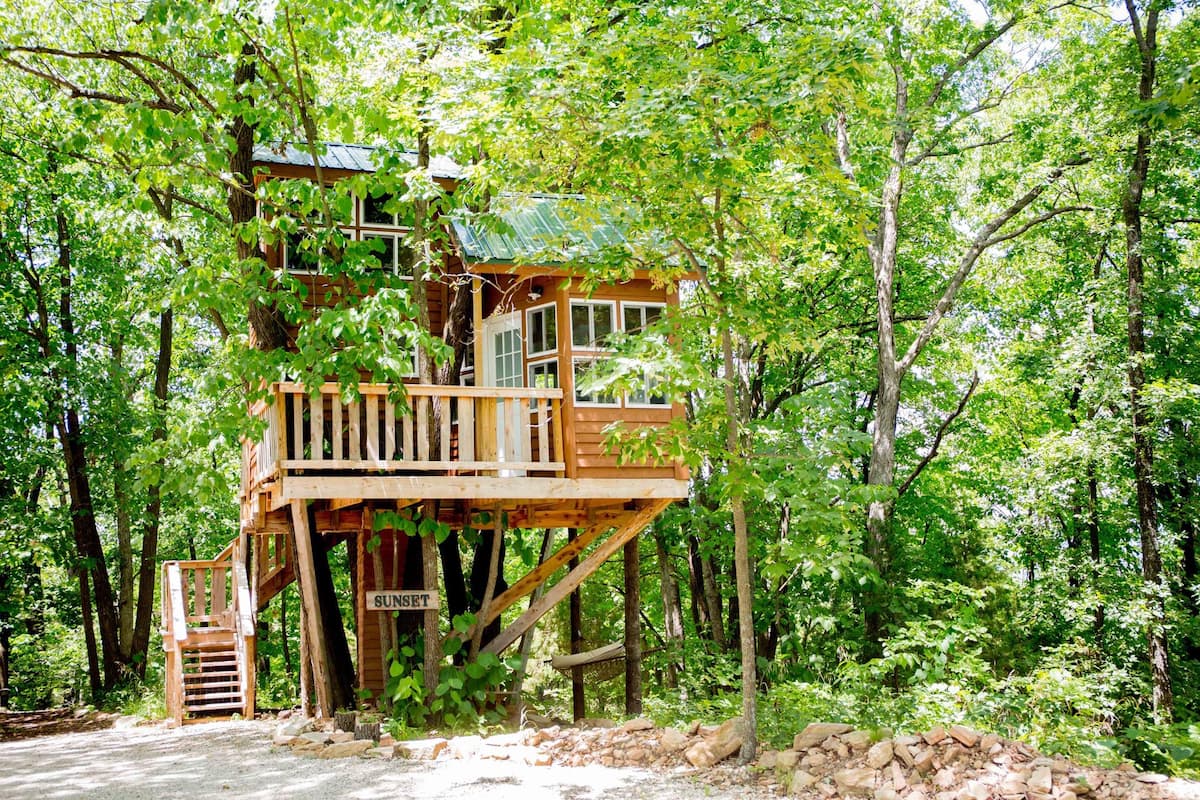 Hermann, MO
✓ 4 People
✓ 1 Bedroom, 1 Bed, 1 Bath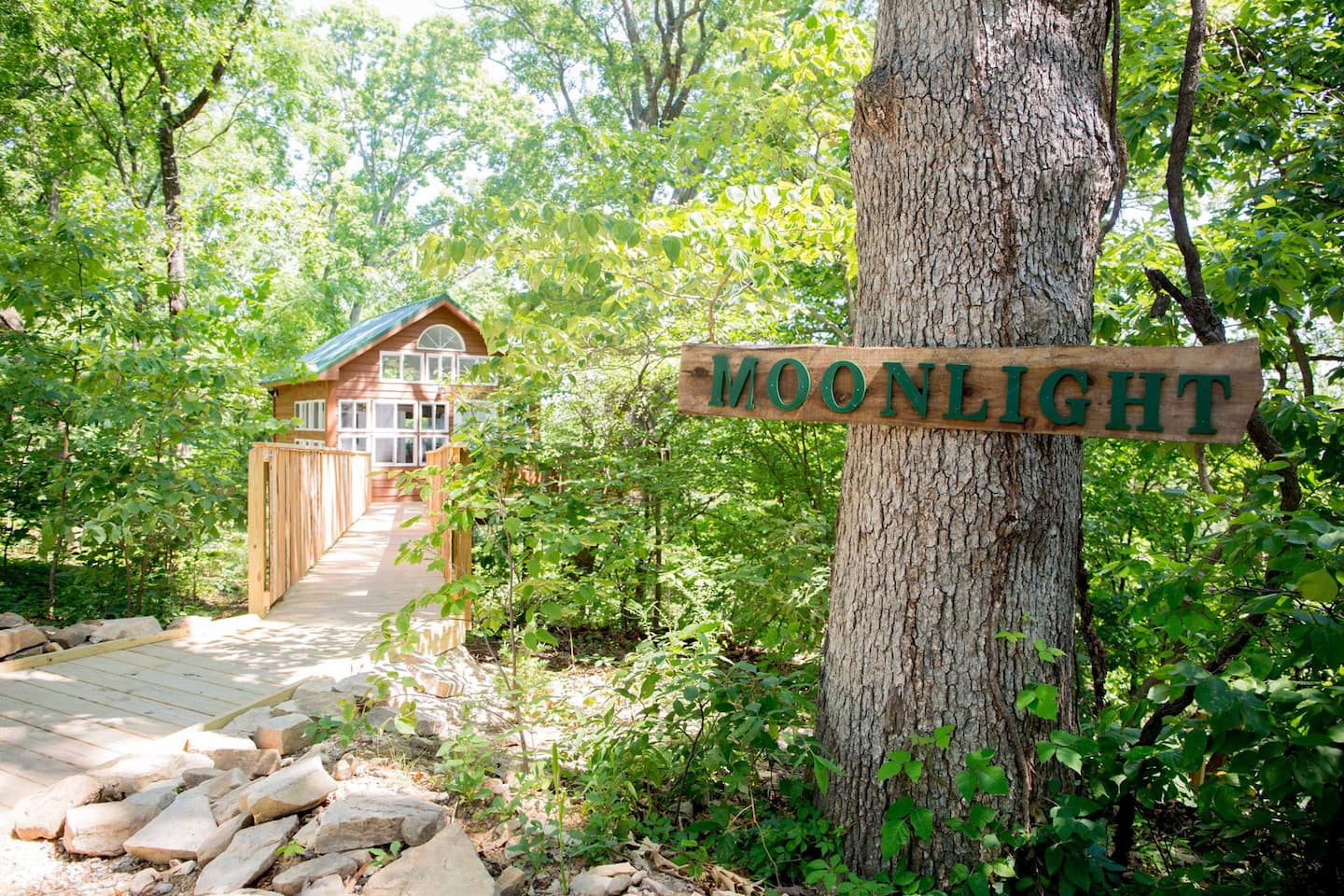 Hermann, MO
✓ 4 People
✓ 1 Bedroom, 1 Bed, 1 Bath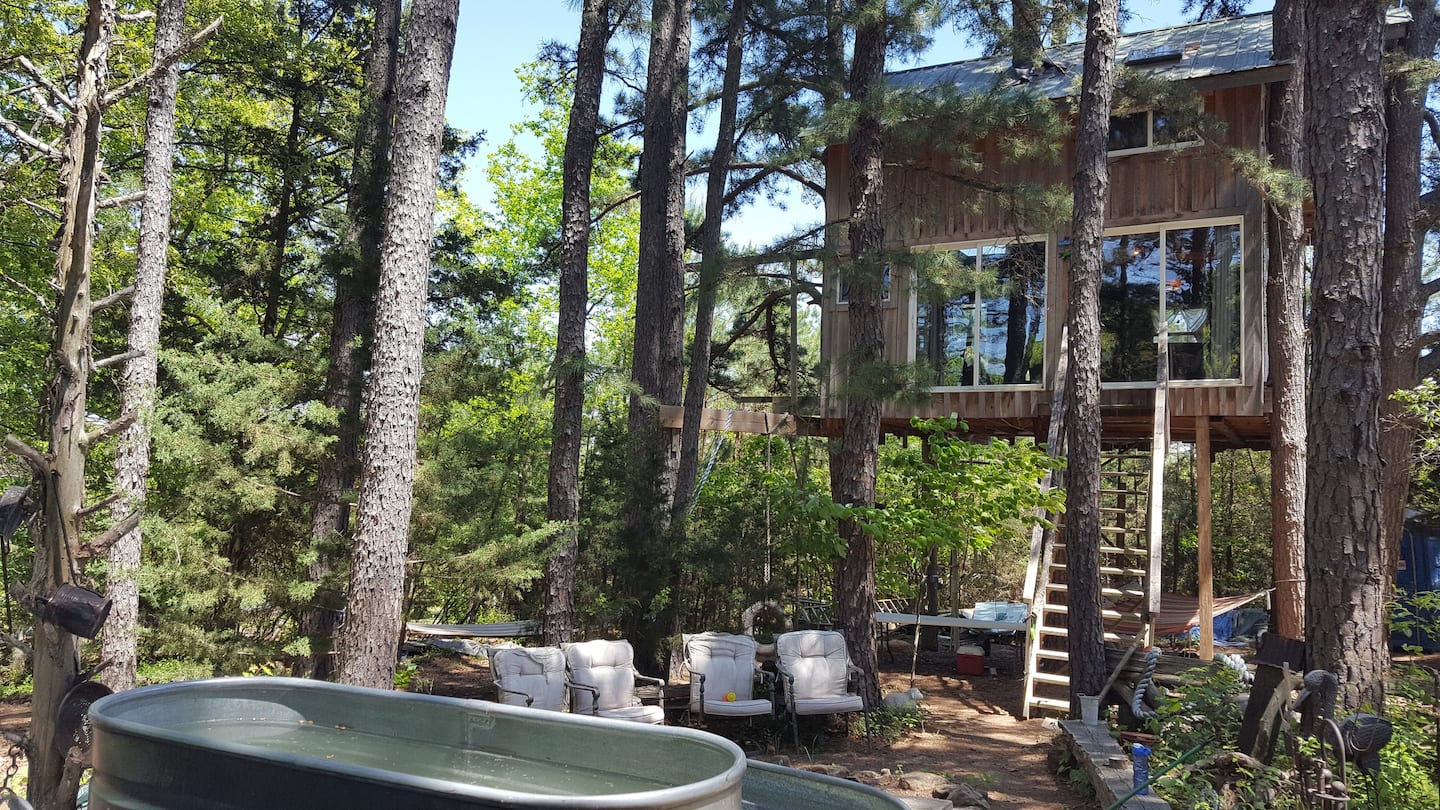 Grubville, MO
✓ 8 People
✓ 6 Beds, 1/2 Bath
Enchanted Treehouse Escape in the woods. Find peace from chaos, relax, let the kids play, and love 70 adorable animals. Roam 70 acres, lake, creek, hiking, swings, campfire, old-time tin hot tub. Furnished cozy 2 story Treehouse with loft, sleeps 8 with 6 beds. Kitchenette with everything, living room, dinette. Johnny potty outside, compost toilet inside, hot shower.
Extra cleaning measures in place. Make memories of joy. Be the Swiss Family. Private check-in.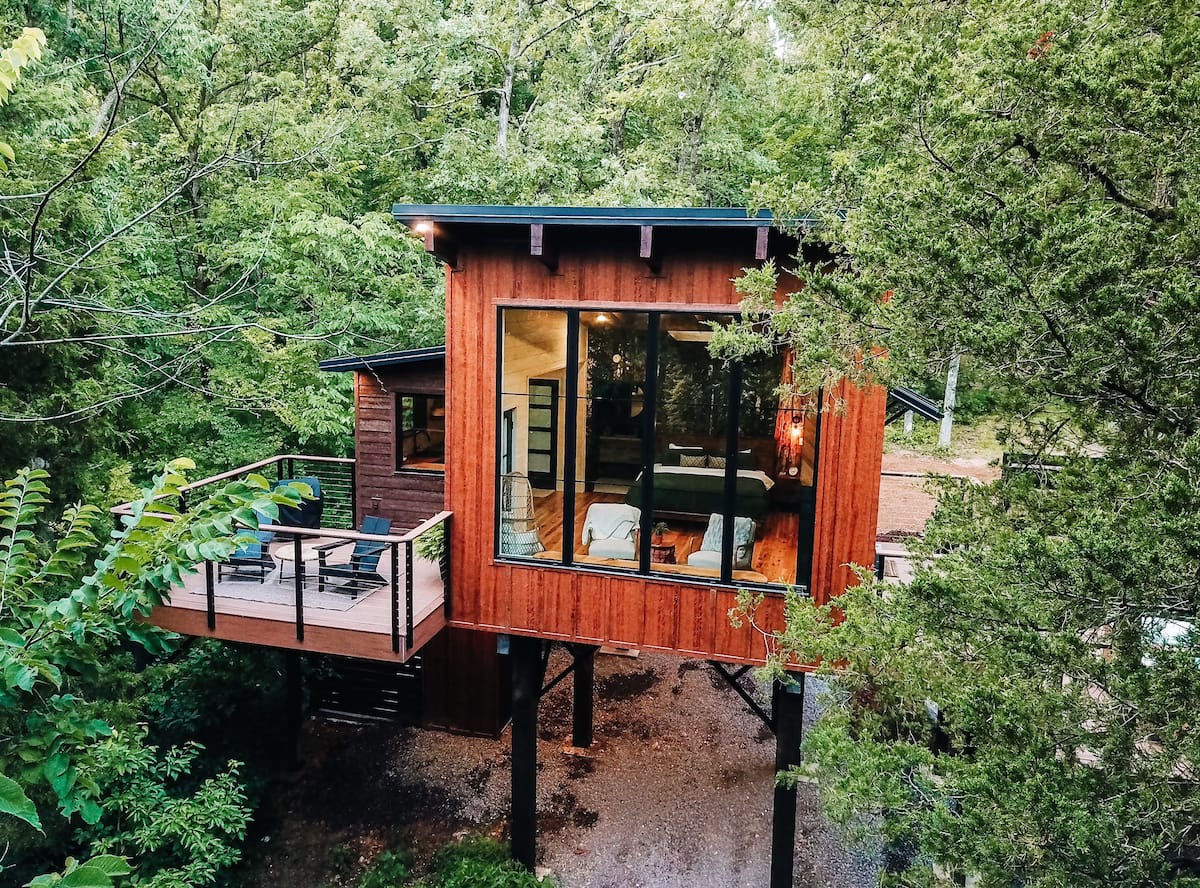 Perryville, MO
✓ 2 People
✓ 1 Bedroom, 1 Bed, 1 Bath
Welcome to the TreeLoft experience! This is a custom-built luxury treehouse for two. It is our hope that upon your stay you will be reconnected to nature and to the one you came with. We created the TreeLoft with an inspired state of mind, and we are hopeful that the same inspiration will be experienced and reflected during your stay.
Go to sleep counting stars and wake up with the trees! We can't wait to provide you with the TreeLoft experience! We rise by lifting others! 
Potosi, MO
✓ 2 People
✓ 1 Bedroom, 1 Bed, 1 Bath
This is a one of a kind luxury treehouse that sits 20′ in the air just a stone throw from the beautiful Sayersbrook lake on Spring Lake Ranch. The guests will sleep in a loft which has a California king– you will be able to see the stars above you and the beautiful nature and lake in front of you from your bed.
There are stairs to climb so this is not suitable for small children or anyone who has medical issues with climbing a ladder to the lofted bedroom. Overlooks the lake and camping sites.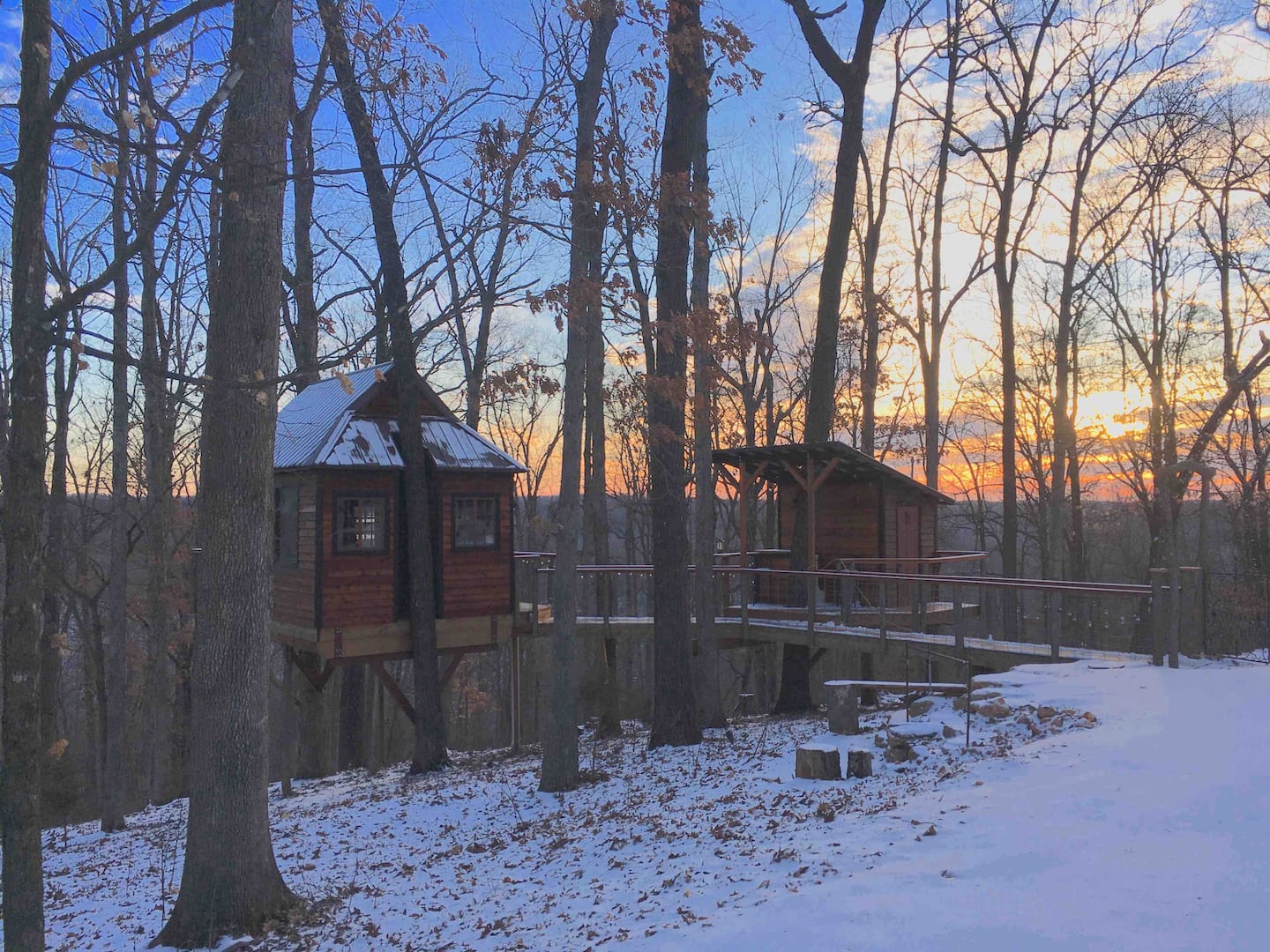 Cassville, MO
✓ 2 People
✓ 1 Bedroom, 2 Beds, 1 Bath
Ozark Tree Suite is an authentic tiny-house Treehouse and Jacuzzi bath house nestled within seven trees on 10 wooded acres. The treehouse and bathhouse are adjoined by a walkway bridge on a hillside.
Located on Hwy 112, two minutes from Roaring River State Park- hiking trails, fly fishing, spring, rainbow trout hatchery; 5 minutes from Mark Twain National Forest.
Two Harbors, MN
✓ 3 People
✓ 1 Bedroom, 2 Beds, 0 Baths
The ReTreet House was completed in the spring of 2019! It is a well-insulated and heated two-story house built among the many white cedar trees on 30 acres of woods. The first level is a very comfortable bedroom with a queen-size bed and a large window overlooking the surrounding woods.
The second level features a treetop view of the white cedar forest with a peek of Lake Superior. There is no indoor plumbing, but a cold and hot water dispenser is available. Also, just steps away from the dwelling is a cute, clean, heated outhouse for your comfort.
Squaw Lake, MN
✓ 2 People
✓ 1 Bedroom, 1 Bed, 1 Bath
A unique lakeside real treehouse for adults wanting a quiet glamping get-away. Glamour camping at it's best with a queen luxury bed, cozy lake viewing sitting area, sauna, electricity, lights and a full luxury shared bath available for your stay.
Cottage Grove, MN
✓ 4 People
✓ 2 Bedrooms, 2 Beds, 1.5 Baths
Treehouse is close to parks, art and culture, great views, restaurants and dining, and the beach. You'll love this place because of the views, the location, the people, the high ceilings, and the coziness. This place is good for couples, solo adventurers, and business travelers. Not suitable for children under the age of 12.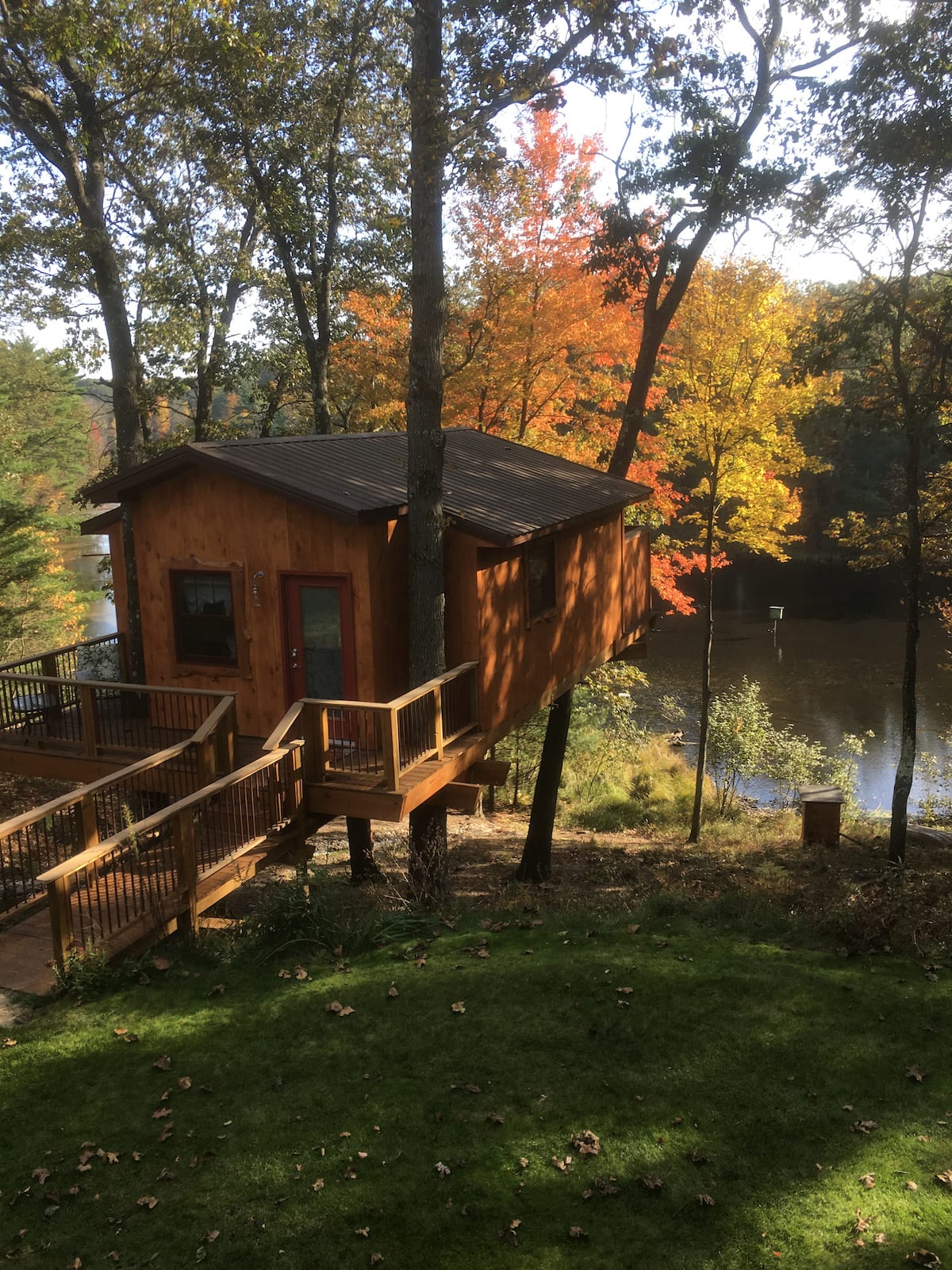 Whitehall, MI
✓ 2 People
✓ 1 Bed, 1Bath
From a recent guest: "Our stay at the treehouse was truly amazing!!!!! We were celebrating my husband's 30th and it did not disappoint. Shawn and Steve were very hospitable and friendly and left many sweet touches. The exterior and interior of the treehouse are beautiful – truly a work of art.
The location is great- 20-30 minutes from many state parks and cute lakeside towns but you don't even have to leave to enjoy yourself. The kitchen is fully equipped if you did not want to eat out. Take a trip down the creek in the kayak or rowboat. Total relaxation- highly recommended!! Will return for sure. Thanks!!!"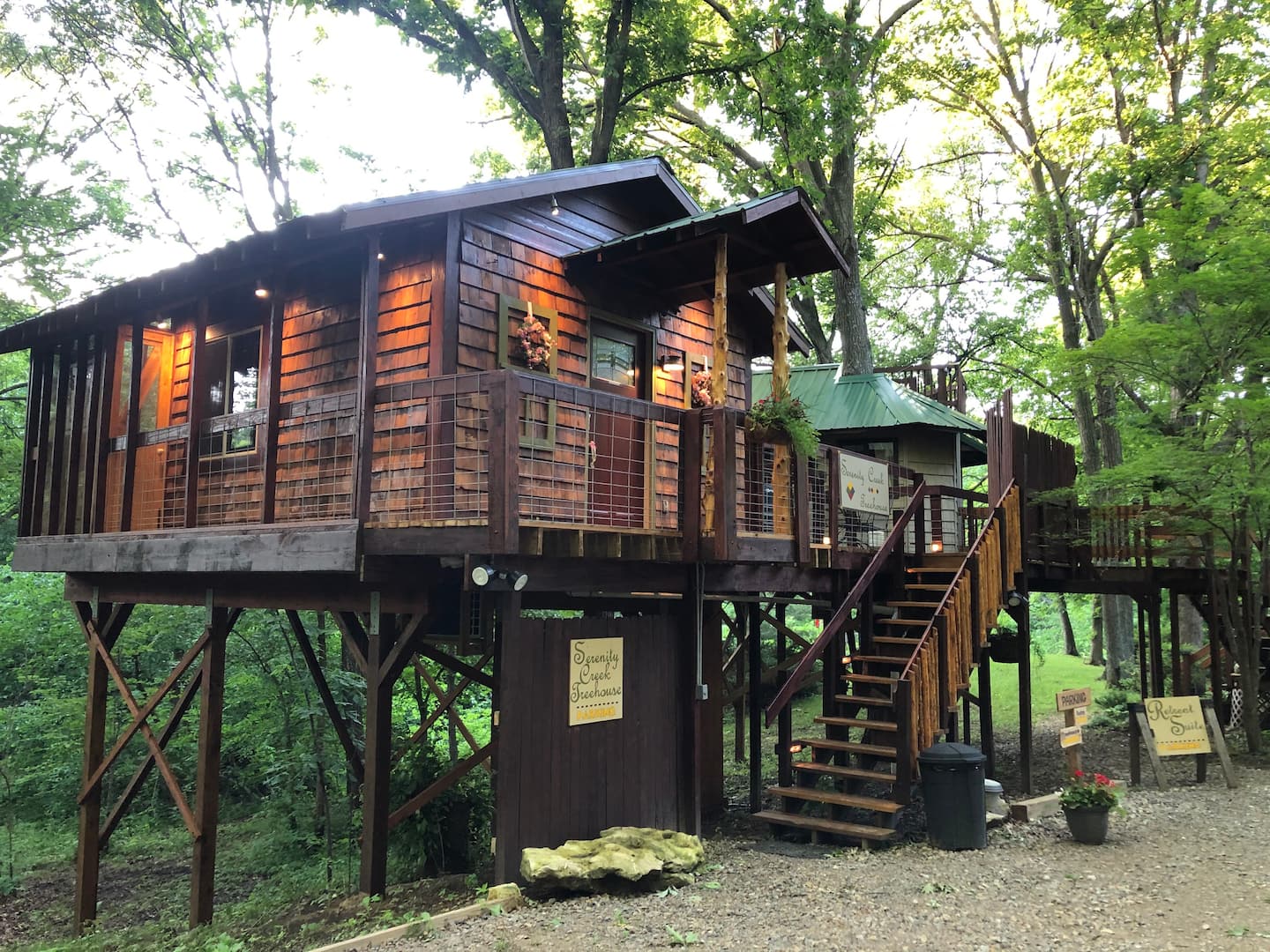 Easton, KS
✓ 2 People
✓ 1 Bedroom, 1 Bed, 1 Bath
Escape to an adult only (18+ yrs due to rugged terrain) enchanting treehouse/ tree cabin @ Hidden Valley Wilderness Retreat. Serenity Creek – a private north & south treehouse connected via short open air walkway. Main retreat house close by, tiny house + another treehouse for other guests. Rest in a peaceful setting!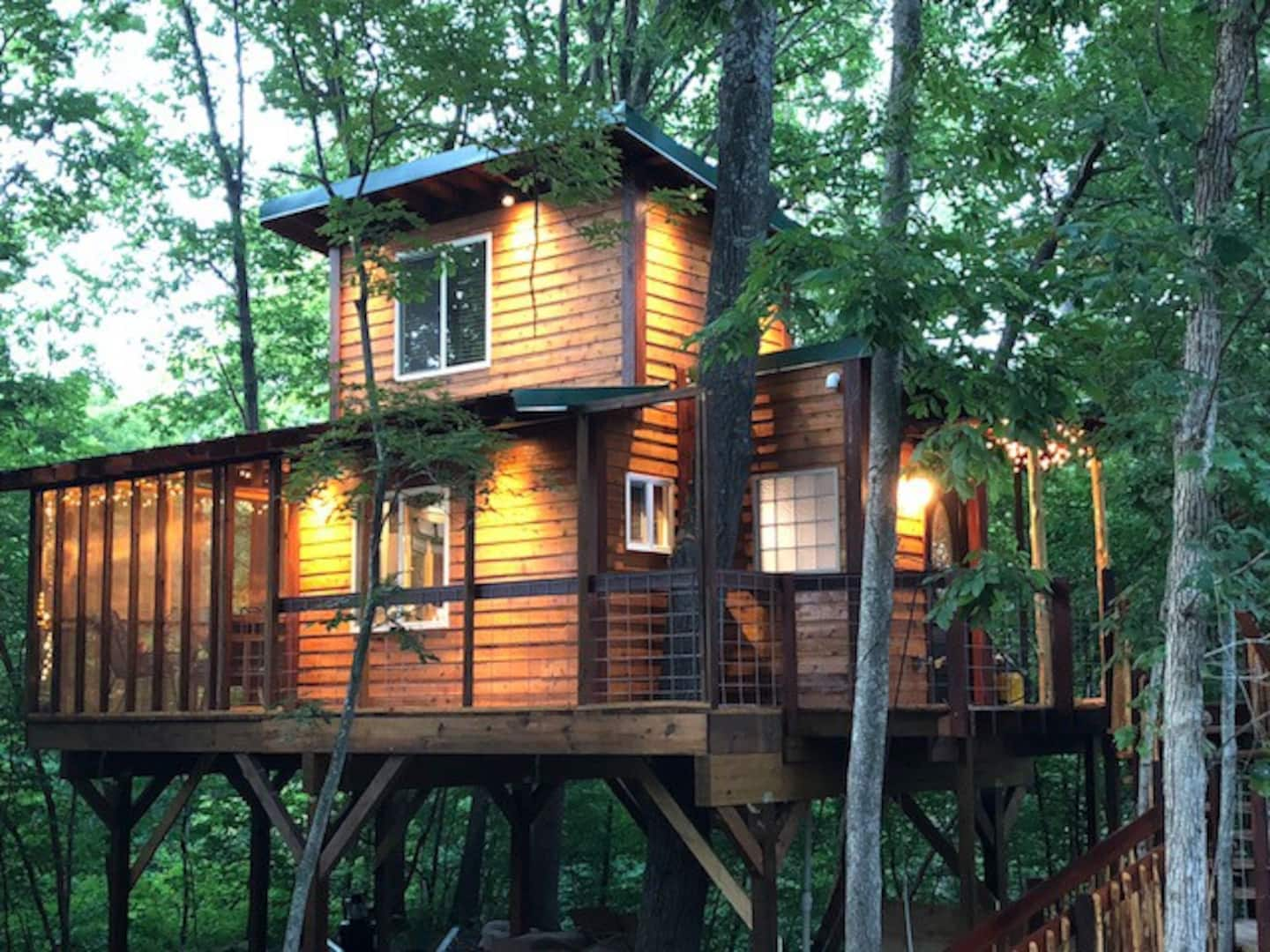 Easton, KS
✓ 2 People
✓ 1 Bedroom, 1 Bed, 1 Bath
The treehouse is located on a ledge overlooking the trickling creek – very secluded from others. Guests have access to the 32-acre property with over 2 miles of walking trails. The nature experience allows for an "outdoor" shower on the screened-in deck. The spacious screened-in deck overlooks a valley and a trickling stream 60 ft below.
It has multiple seating options for enjoying the peaceful sounds of nature any time of the day. The backyard offers an outdoor gas grill and an open fire pit (firewood provided).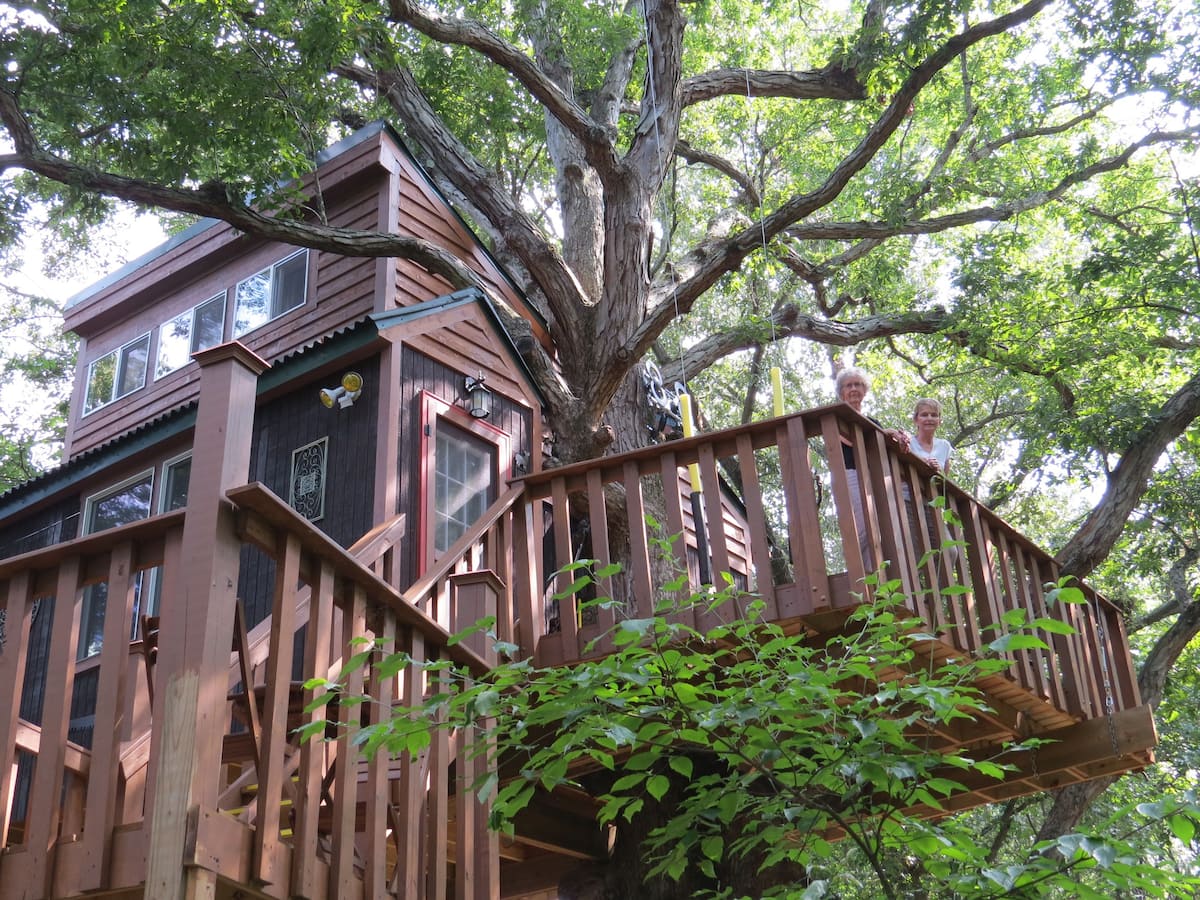 Elizabethtown, IL
✓ Pet Friendly
✓ 6 People
✓ 1 Bedroom, 2 Beds, ½ Bath
Built-in a 200+ year old White Oak, this Grandfather of a tree will delight its visitors with a large branch that extends into the "cabin" and another coming up through the deck, 24' in the air! Just minutes away from the famous Garden of the Gods in the Shawnee National Forest, this treehouse is perfectly located.
They offer complimentary coffee, tea, firewood, and camp chairs. We are pet friendly. NO more than 6 people in this treehouse regardless of size or age.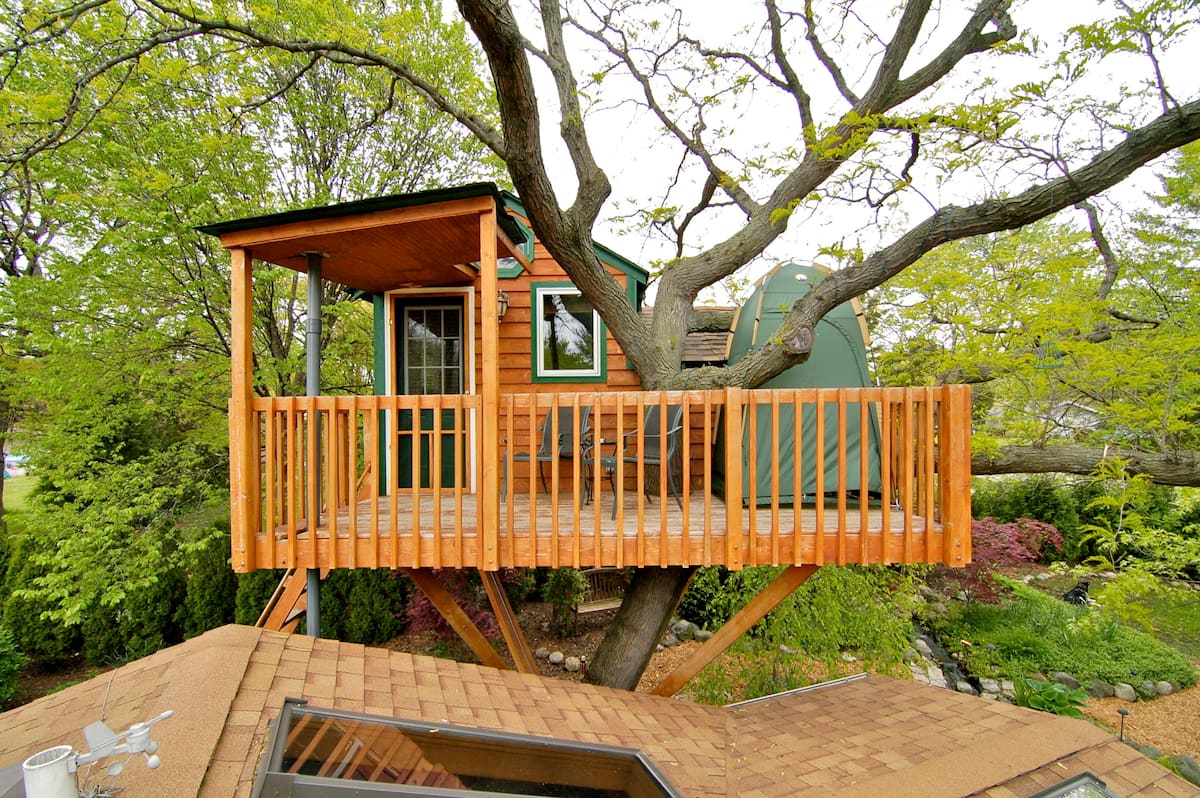 Schaumburg, IL
✓ 3 People
✓ 1 Bedroom, 1 Bed, 1 Bath
It's the equinox and fall is here! Come enjoy the perfect weather in a nature-filled getaway without crowds and planes! We are open, so come enjoy the hot tub by the waterfall with the fire table blazing while the moon and stars swirl overhead! Have food delivered or grill your own. Relax in our crowd-free romantic getaway!